Cayman islands first of the Nomad Beach Index for 2021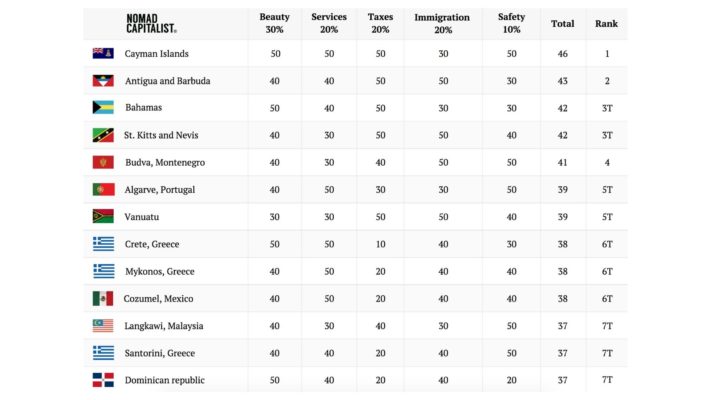 The Cayman Islands has topped the 2021 global Nomad Beach Index list with 46 out of 50 possible points, beating Antigua & Barbuda, the Bahamas and St. Kitts & Nevis which nabbed the second thru fourth spots, respectively.
The Nomad Beach Index aggregates data from over thirty sources to create a total point system of 50, ranked by essential priorities for a Nomad Capitalist, including beauty, services, taxes, immigration and safety.
Here's how Cayman scored:
Beauty:           50
Services:         50
Taxes:             50
Immigration:  30
Safety:                        50
TOTAL:           46
Where Cayman lost points was the high cost of becoming a citizen of Cayman. Antigua & Barbuda, which came in second place scored 43 points.
Said the authors of the report:
"As the world comes roaring back to life, different people realize that they do not have to live in the United States, Australia, the United Kingdom, or the other legacy brand countries. We live in a time where technology is at its peak, so if you are a seven or eight-figure earner, investor, or stockbroker, or if you simply consider yourselves a "Nomad Capitalist," then you should take advantage of this index to learn how to "go where you're treated best."
Other countries that made the list (in order of appearance) included: Budva, Montenegro; Algarve, Portugal; Vanuatu; Crete, Greece; Mykonos, Greece; Cozumel Mexico; Langkawi, Malaysia; Santorini, Greece and the Dominican Republic.
The full report:
1. The Cayman Islands
The Cayman Islands is one of the best beach destinations in the Caribbean. Its lush greeneries and blue waters make it a tropical paradise. Not only that, the Cayman Islands is a perfect tax haven for entrepreneurs and investors who do not want to deal with the complicated taxation policies in other countries. They can enjoy the warm sun in the Caribbean and favorable tax policies too.
If establishing a residency in the Cayman Islands is a goal, it is a straightforward process. Although, it does not come cheap. You will need to spend over $1,000,000 for a renewable temporary permit that can last for 25 years, or you can spend over $2,000,000 for a permanent residence permit that will eventually allow you to acquire citizenship. This is perfect for those looking to get citizenship by investing in a country in the Caribbean. However, it is also worth noting that there are far cheaper options available in different countries in the region.
One of the best things about living in the Cayman Islands as a Nomad Capitalist is that it is a tax haven with no income tax, no property tax, no company tax, and no capital gains tax.