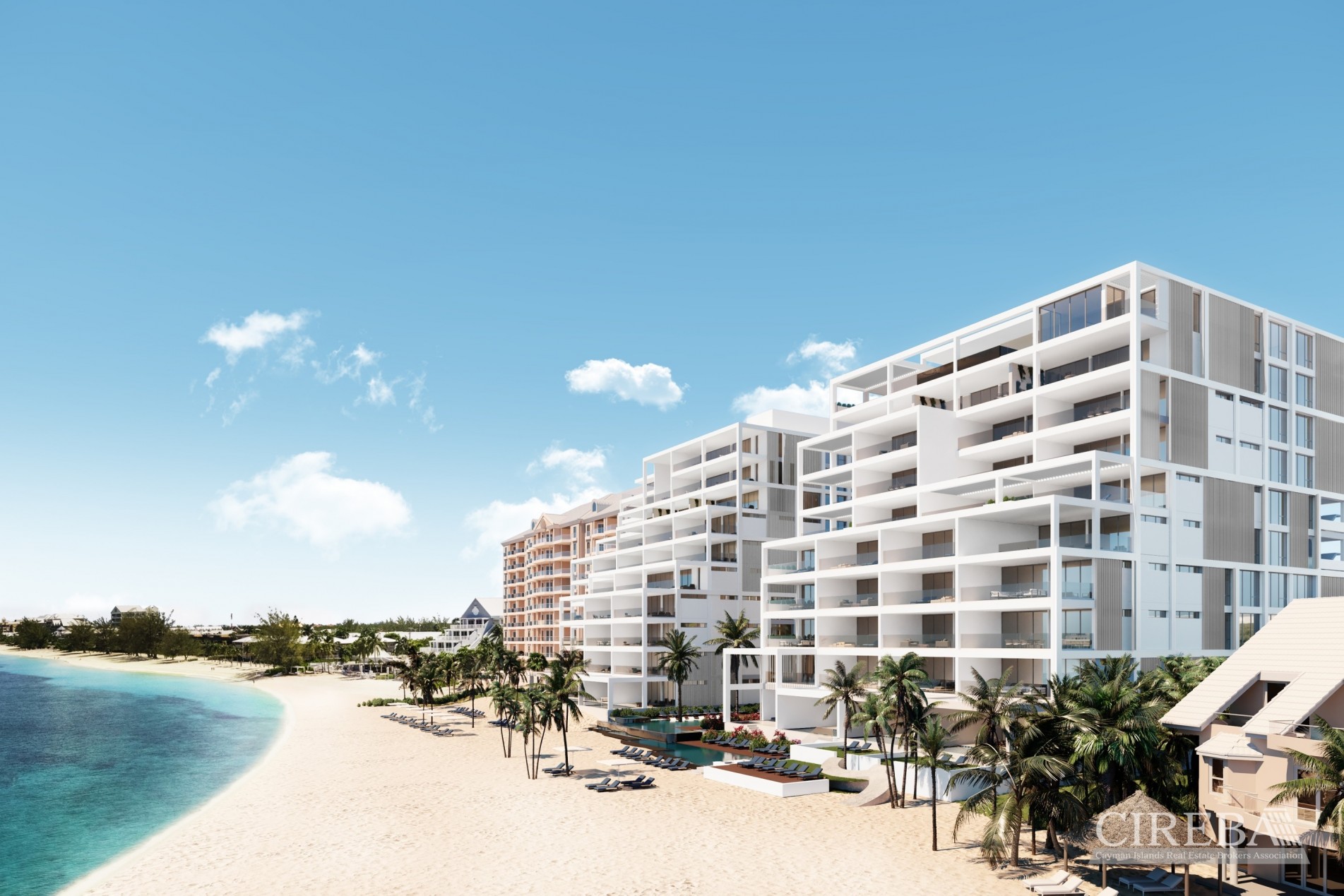 THE EPITOME OF MODERN LUXURY




ON SEVEN MILE BEACH
Lacovia sets the new benchmark of luxury real estate on Seven Mile Beach, blending inspired architecture and contemporary interior design with magnificent views of Cayman's turquoise waters.
Designed for distinction by Swedish architects, OOAK, the exclusive residences maximize light and views with 10-foot floor to ceiling windows and sliding glass doors. The expansive terraces with frameless glass railings capture the spectacular vistas of Seven Mile Beach from every angle.
Lacovia offers 14 exclusive floor plans ranging from 3 to 8 bedrooms, all outfitted with luxury appliances and
bespoke finishes. Residents and guests have access to concierge, bellhop, and valet services, as well as a 24-hour fitness center, spa and food and beverage services.
A RARE COLLECTION OF RESIDENCES
Comprising three buildings, the North and South buildings offer unrivaled beach front access, while the East building is optimally positioned to balance views of both the Caribbean Sea and the North Sound.
Beautifully crafted and impeccably curated, the North
and South buildings include 3 – 6 bedroom residences with up to five residences per floor, while the East building features no more than two residences per floor, each with private elevator access. For truly elevated living,
It is confidently crowned with six sun-drenched penthouses and four subpenthouses, providing the pinnacle of open-plan living with unprecedented views across the Caribbean Sea.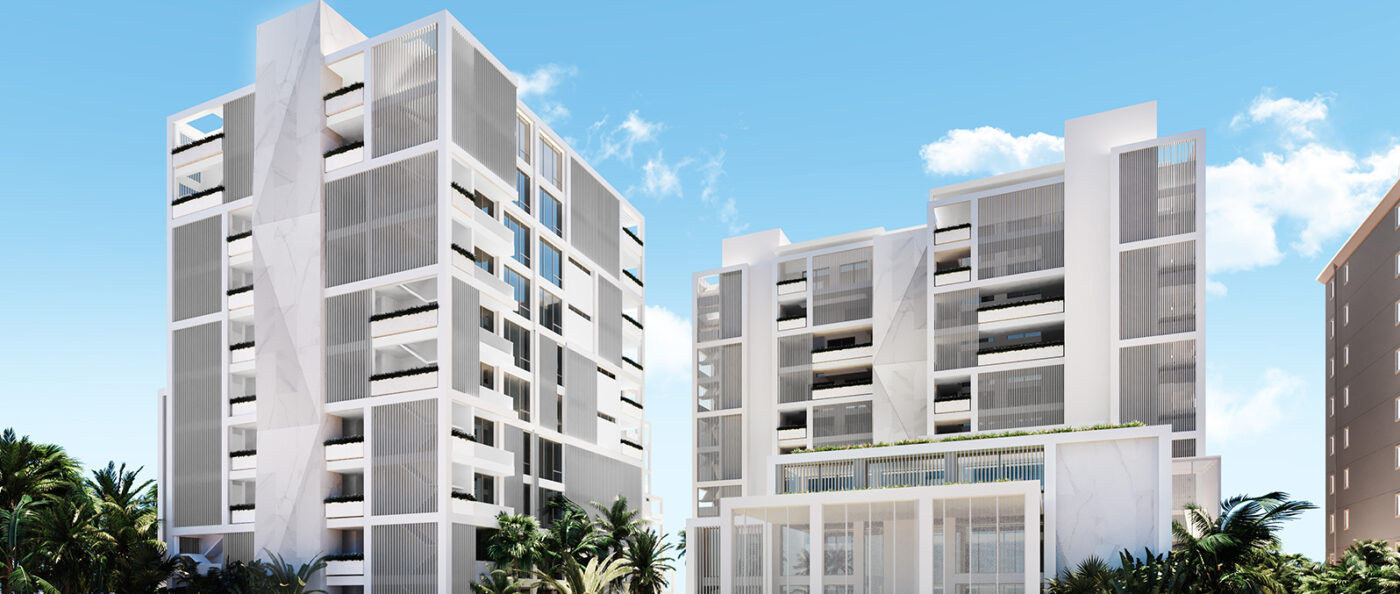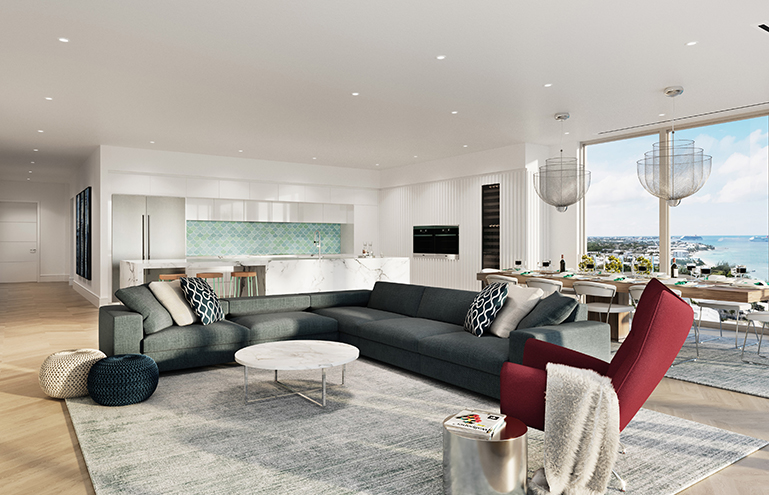 COMFORT AND CONVENIENCE
A thoughtful blend of luxury and comfort, the amenities at Lacovia offer opportunities to both relax and indulge.
From concierge services and fitness studio, to the infinity edge pool, outdoor garden terraces, food and beverage services, and private beach cabanas,
The resortstyle amenities have been
meticulously designed with sophistication and convenience in mind.
A Safe Harbor During Uncertain Times
In an increasingly volatile world, acquiring residency in the Cayman Islands is an appealing opportunity for high-net-worth individuals. The benefits of owning a property in a tax-neutral, well-regulated jurisdiction with modern infrastructure is of increasing importance.
Cayman has proven itself as one of the world's leaders in keeping its residents safe throughout the COVID-19 crisis and our reputation as a 'safe harbor' has received international acclaim.
For decades the Cayman Islands have attracted international investment to its shores due to its close proximity to the United States, tax neutrality, stable government and independent judiciary. This has resulted in the development of one of the most significant and sophisticated financial service centers in the world. High-net worth individuals have been equally attracted to real estate investment in the Cayman Islands in order to obtain permanent residency and ultimately citizenship.
In addition to Cayman's modern infrastructure, high standard of living, low crime rate, tropical climate and natural environment, Cayman real estate has consistently represented a sound investment for both short term rental income and long term capital appreciation. Options for Long Term Residency The Government of the Cayman Islands offers two options for individuals and families seeking permanent or long term residency through real estate investment.
Purchasers of an apartments would qualify to obtain Permanent Residency and a pathway to citizenship should they desire it. Citizenship would allow individuals to obtain not only a Cayman passport but ultimately a British passport.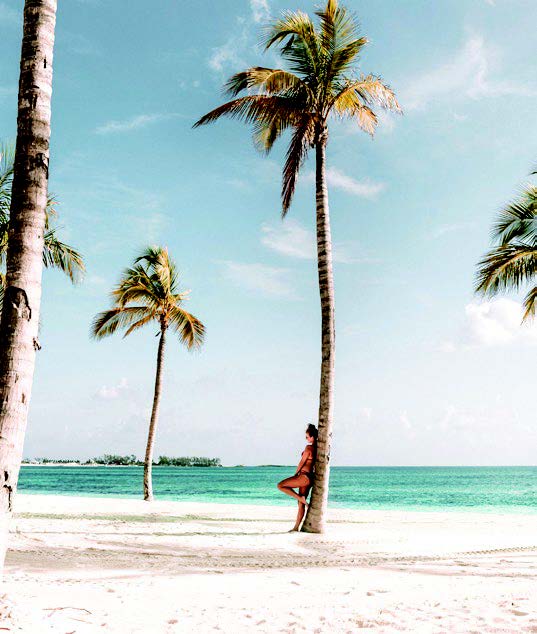 Lacovia was built in the late seventies and as such represents one of the original developments on Seven Mile Beach. Not surprisingly it is found on one of the very best sections of Seven Mile Beach and offers a great depth of pristine white sand, Lacovia sits on a large site with close to four hundred feet of beach front and almost four acres allowing plenty of space for a large pool, tennis court, owners Club House, managers office and the fifty five privately owned condominiums. As an older low density condo complex on Seven Mile Beach, Lacovia has just three floors, all of the ground floor apartments are larger single level homes where as the upper properties are set over two stay town houses.
Adjacent to Lacovia on its north side is The WaterColours and to the south is the luxury beach house Seascape beyond which are other private homes on Lizard Run and then The Cayman Club.